---
Daily Titan 45th reunion photos
(taken Nov. 6, 2005)
---
More captions will be added as soon as possible. If you have photos of the reunion, please send them to Wayne Overbeck for posting here. Where a caption lists a series of names, the identification is left to right.
---

Chuck Loyd (left) was the first editor of any student publication at what is now California State University, Fullerton. He was the founding editor of the Titan Times at Orange County State College in 1959-60. Chuck is now retired after a long career as a school administrator in the San Jose area. With him is Jim Drummond, the editor who made the Titan Times a twice-weekly newspaper in 1965. Drummond is the historian of CSUF journalism; his detailed chronology is on this website as well as the Daily Titan's new official history website.

Gary Lycan was the fall, 1966

Titan Times

editor. He recently retired after a 40-year career at the

Orange County Register

but still writes

the

Register's

weekly radio column.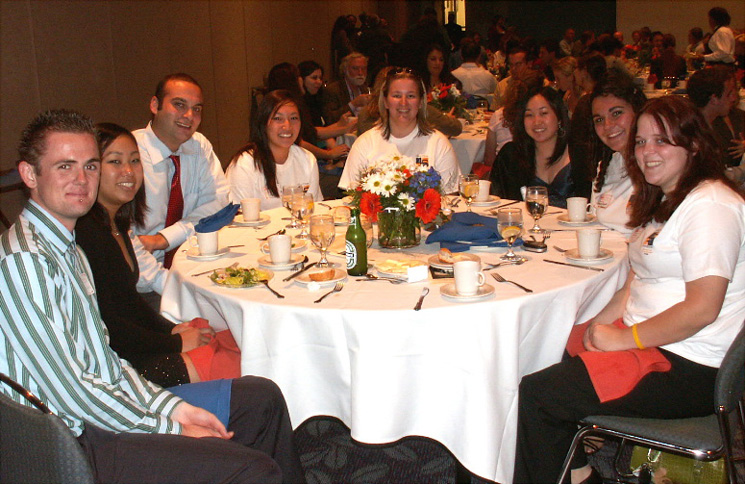 Then and now: by moving a mere 600 pixels down the page, we've traversed 45 years. This is a group of current (2005) Daily Titan advertising staff members. They are (from left) Ryan Smith, Lesley Wu, Can Sengezer, Sarah Oak, Jackie Kimmel, Leanne Saita, Victoria Scott and Emily Alford. In the background is another group of Daily Titan staffers with the current editorial adviser, Tom Clanin (immediately left of Jackie Kimmel).

---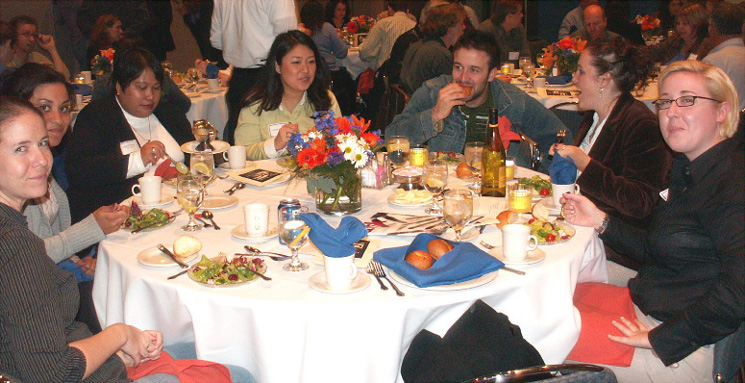 A group of early-2000s Daily Titan editorial staffers (from left): Laura Gaghan, Elana Pruitt, Abigail Siena, Lisette Lebrilla, Drew Farrington, Jessi McFarland and Kim Pierceall.

---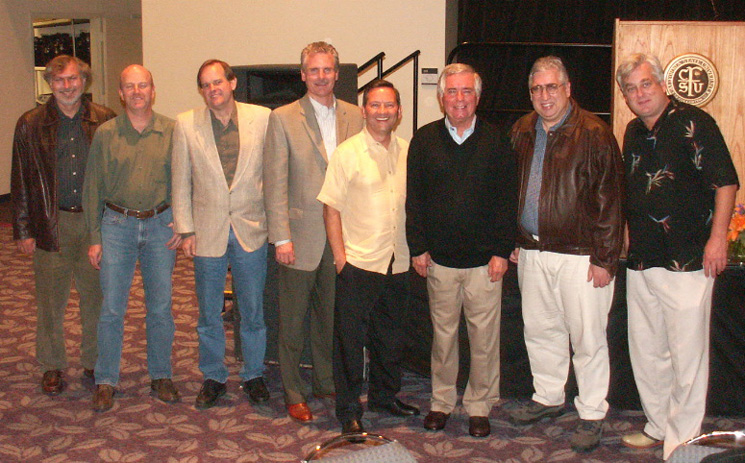 This is a group of Daily Titan alumni from Dean Rick Pullen's era as faculty adviser. They are (from left) David Ferrell (an active author, retired from the L.A. Times), Roy Rivenburg (L.A. Times), Scott Harris (L.A. Times), Geno Effler (Aston Martin public affairs), John Millen (president, MPA Executive Communications), Dr. Pullen, Steve Nill (attorney) and Peter Schmuck (Baltimore Sun).

---

Jay Berman's "cast of thousands" includes (from left) Cerise Valenzuela (Daily Breeze), David K. Li (New York Post), Wendy Geister (GearTrends), faculty adviser Berman (retired), Scott French (L.A. Daily News), Sheryl Temple, Walt Baranger (New York Times), Marie Montgomery (Auto Club of Southern California), Nick Leyva (Orange County Register), Desiree Guzzetta, Andy Koehler (Big Five Sporting Goods), Phil Metzger (Orange County Register), Mary Ann Lage (M&O Perry Industries), Ryan Blystone (L.A. Daily News), Tom Grable, Barbra Caliendo, Antonio Prado (San Luis Obispo Tribune), Tim Hubbard (L.A. Times), Patty Bornhop and Andy Bornhop (Road & Track). Can anyone give us current affiliations for more of these alumni?


College of Communications Dean Rick Pullen, the emcee and Daily Titan adviser, 1973-76 and 1978

Cerise Valenzuela, Marie Montgomery and Jay Berman (

Daily Titan

adviser, 1981-1992)
| | |
| --- | --- |
| Wendell Crow, chair of the Department of Communications, with Nick Leyva and Jean Leyva. | Professors Andi Stein and Carolyn Johnson (can you guess which one is close enough to retirement that she can do pretty much what she pleases?) |
| | |
| --- | --- |
| | Lisa Berghouse McPheron and Jason McPheron |
| | |
| --- | --- |
| Michael Salas, Richard Vallens and Wayne Overbeck (Titan/Daily Titan adviser, 1968-73) | Irene Machuca Berman, Desiree Guzzetta, Andy Koehler and Walt Baranger |

Mary Ann Lage, Barbra Caliendo and Marie Loggia-Kee (photo provided by Mary Ann Lage)

Jeff Brody,

Daily Titan

adviser, 1993-2002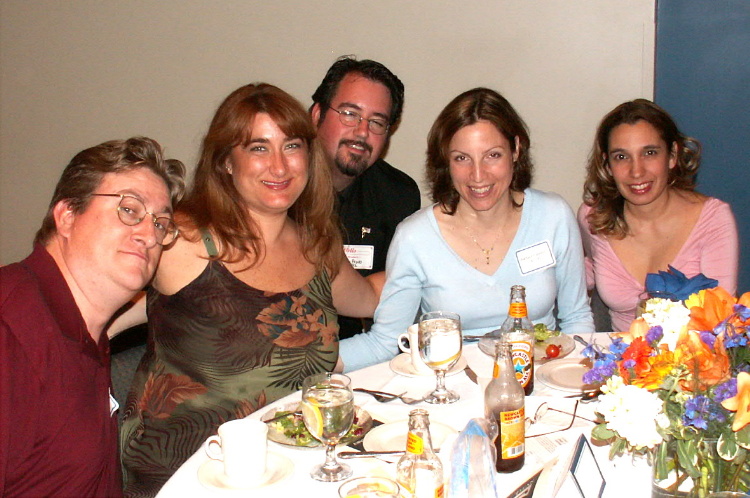 Ryan T. Blystone, Mary Ann Lage, Tony Prado, Barbra Caliendo and Marie Loggia-Kee
| | |
| --- | --- |
| John Millen, Rick Pullen and Steve Nill | |
| | |
| --- | --- |
| Michael Salas watches as Wayne Overbeck and Richard Vallens engage in a digital camera duel (photo provided by Rick V., who apparently won the duel). | Tom Clanin, Daily Titan adviser, 2002-2008 |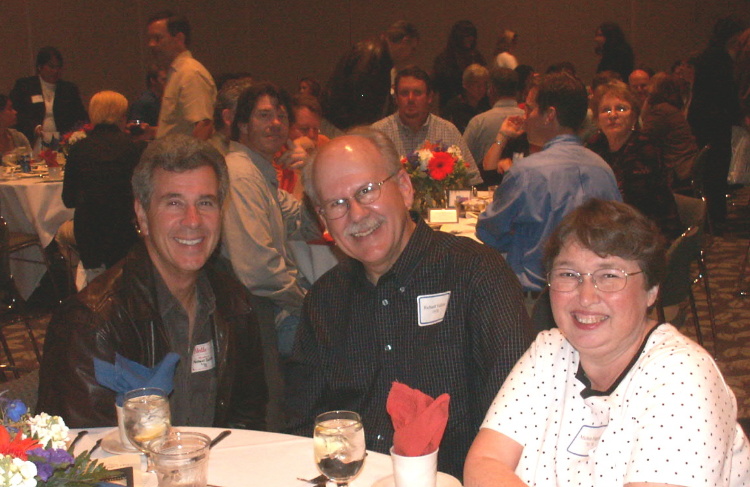 Michael Salas, Richard Vallens and Michelle Huggler
---