Pat O'Donnell's reunion photos
---
These photos were taken Nov. 5, 2000.

---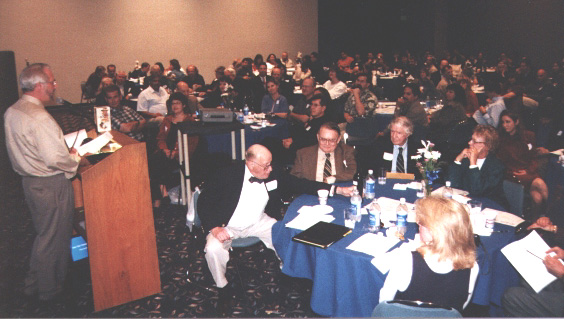 Wendell Crow, current chair of the Department of Communications, addressed the crowd of about 170 people attending the Daily Titan reunion.



Rick Pullen, dean of the College of Communications and a former Daily Titan adviser (left), and J. William Maxwell, the first chair of the Communications Department and a former Titan Times adviser, described their days working with student publications at Cal State Fullerton.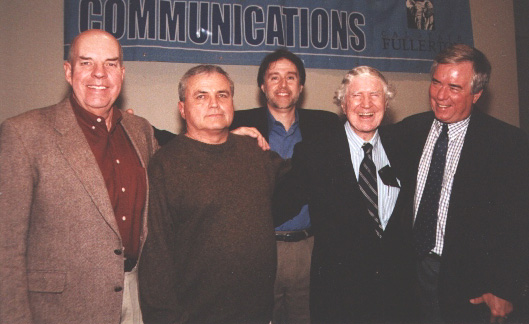 In perhaps the first such gathering ever, five Cal State Fullerton student newspaper advisers got together at the reunion. They are, from left: Wayne Overbeck, Titan/Daily Titan adviser 1968-73, Jay Berman, Daily Titan adviser 1981-92, Jeff Brody, adviser 1993-2002, J. William Maxwell, Titan Times adviser 1961-68, and Rick Pullen, Daily Titan adviser 1973-76 and 1978.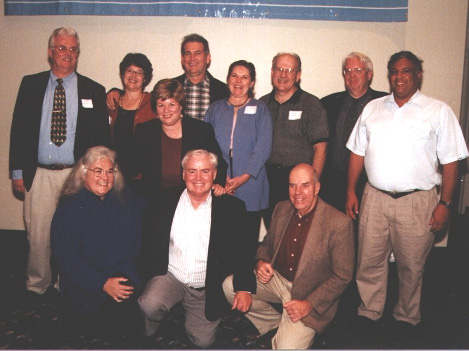 A group of 1968-73 era CSUF journalists got together for a first-in-30-years photo opportunity. Those kneeling (from left) are: Sylvia (Onalfo) Wybrant, Dan Wybrant and adviser Wayne Overbeck. Standing (from left) are: Don Stanwood, Lynn (Hill) O'Dell, Pat (Hague) Broeske, John O'Dell, Candace Ford, Richard Vallens, John Norton and Charles Gibbs.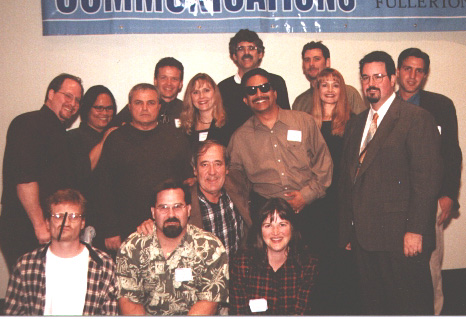 Daily Titan editors from the 1980s and early 1990s also got together at the end of the reunion. Those standing are (from left) Steve Townsley, Joyce Garcia, adviser Jay Berman, Stuart Pfeifer, Shauna Snow, Walt Baranger, Michael Mahi, Phil Metzger, Jan Ewell Crocker, Anthony Prado and Larry Nista. Kneeling in front are (from left) John Sinclair, Jonathan Volzke, photo adviser Pat O'Donnell and Marie Montgomery.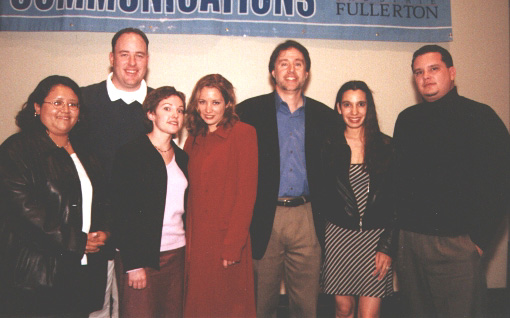 A group of 1990s Daily Titan editors posed with their faculty adviser. They are (from left): Annette Macias, Geoff Bilau, Maryanne Wardlaw, Denise Carson, adviser Jeff Brody, Marie Loggia-Key and Phillip Browne.
| | |
| --- | --- |
| | Before the reunion dinner, James P. Alexander (left foreground) was honored for his 30+ years of service to the CSUF journalism program by the naming of the new Daily Titan newsroom in his honor. With him is Wendell Crow, current department chair. |